Investing in the communities we serve has been a long-standing pillar of Valley's mission. When the COVID-19 pandemic began, small businesses were heavily impacted, with many experiencing financial and staffing issues.
To help alleviate financial distress, Valley Bank continued to provide resources and grow its partnership with the Hebrew Free Loan Society (HFLS)  – which was previously started through the Valley National Bank Small Business Loan Fund (formerly Bank Leumi). The Fund enables HFLS to continue to offer interest-free loans to support small business owners in Long Island, Westchester, and New York's five boroughs.
Through programs like the Small Business Loan Fund, HFLS fosters financial stability and opportunity among low-to-moderate-income (LMI) New Yorkers in need by providing access to secure, affordable credit in the form of interest-free loans. Serving as a nonsectarian lender, HFLS has helped borrowers respond to unexpected financial challenges and pursue personal and professional goals since 1892.
Valley made an additional contribution to the Fund, which was matched by HFLS, bringing its total to $1 million. These resources have assisted HFLS in reaching small businesses and entrepreneurs that have traditionally been denied access to credit, helping them access new opportunities and partnerships, and achieve substantial growth.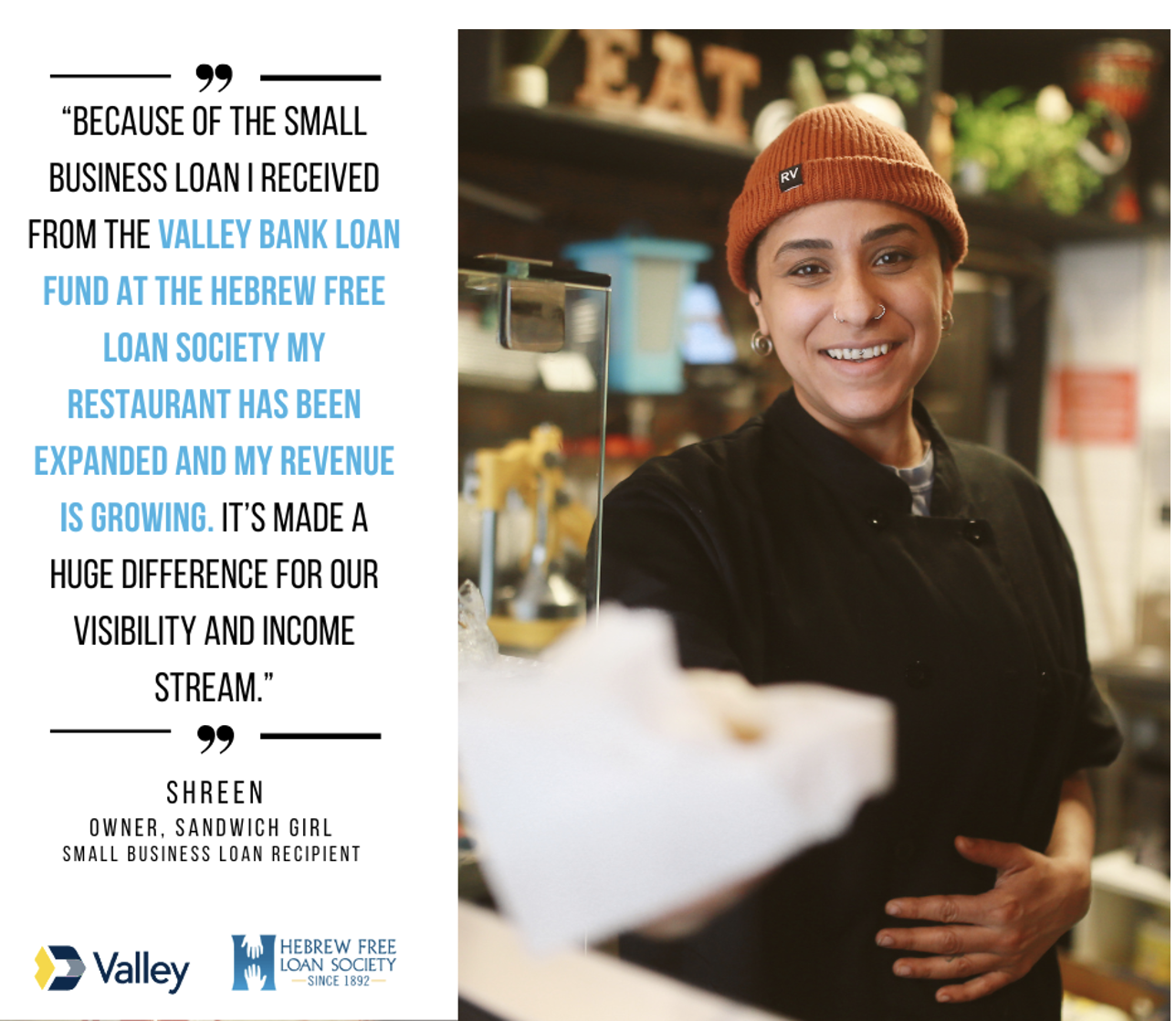 "The impact of these loans cannot be overstated," said Shlomo Haft, Director, Microenterprise of the Hebrew Free Loan Society. "The Valley Small Business Loan Fund with HFLS has enabled more than fifty entrepreneurs to begin or expand their business with interest-free loans, which is a game-changer for these business owners. Through this fund, we are supporting those businesses that were affected by the pandemic and empowering the next wave of entrepreneurs to pursue their professional goals."
Since the Fund's launch in 2020, more than $1.3 million has been lent to small businesses that are primarily minority- and women-owned. The Fund provides continual support, as loan repayments are recycled back into the Fund, supporting additional small business owners and future entrepreneurs in communities where access to credit has traditionally been limited.
Valley is proud to be part of a program that is helping local small businesses prosper.
One of those businesses is L'Appartement 4F, a New York City-based bakery owned and operated by Gautier Coiffard, a recipient of a HFLS loan through Valley's Small Business Loan Fund. As Gautier took his bakery business from his apartment to storefront, the 0%-interest loan from the Small Business Loan Fund alleviated some of the financial burden that came with starting his business, as it gave Gautier the flexibility to pay off debt and grow his brand without the worry of having high monthly payments.
"Thanks to the Valley National Bank Small Business Loan Fund at the Hebrew Free Loan Society, I was able to grow my business without taking on high-interest debt. Now, I can focus on my recipes and expand my café to reach even more customers," said Gautier.
Fellow loan recipient Shreen Elkenani had a similar story, as the Small Business Loan Fund at HFLS helped her enhance her Park Slope restaurant, Sandwich Girl, with expanded outdoor seating and upgraded kitchen equipment.
"Because of the small business loan I received from the Valley National Bank Small Business Loan Fund at the Hebrew Free Loan Society, my restaurant has expanded and my revenue is growing. Customers can eat outside, spread out, enjoy fresh air, and mingle with the community," said Shreen. "It's made a huge difference for our visibility and income stream."
For more stories about how the Valley National Bank Small Business Loan Fund at HFLS has helped entrepreneurs like Gautier and Shreen, please visit HFLS' client success page at https://hfls.org/impact/
To learn more about and to apply for the Small Business Loan Program at HFLS, please visit https://hfls.org/loan-programs/small-business/.